molecular imaging tools / software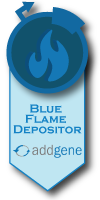 Hahn
constructs
at Addgene
Hahn lab DNA constructs are available at Addgene. Addgene is a nonprofit that produces the constructs with good quality control and simplifies paperwork. Please let us know if you have problems applying these molecules. We may be able to help, and your experience can help us improve them. Thanks.
Tools listed by protein target
Biosensor methods
iPalm of frustrated phagocytosis, taken by Ana Nogueira, Shiqiong Hu, Hahn lab; Jesse Aaron, Leong Chew, AIC Janelia.

binder/tag
small molecule biosensors
Methods to control proteins with light
Methods to control proteins with engineered small molecule binding
Software
Dyes and site-specific labeling

Dmitriy Gremyachinskiy sheds light on dyes that will report GEF acitivty.
~ Updated 07/03/2019